They were good the only thing is that I LOVE when my cookies ( chocolate chip especially ) are nice and soft long after they are baked. Unfortunately this is not the recipe. But it does not mean it was a bad recipe. These cookies I did enjoy, it is just I can still on the search for the nice and soft chocolate chip cookies.
I tried many chocolate chip cookies that were hard so once I finally find that recipe that is nice and soft, I will post it right up :).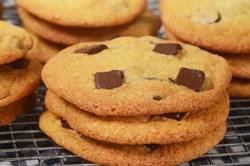 Ingredients:
1 cup (2 sticks) (226 grams) unsalted butter,

room temperature
3/4 cup (150 grams) granulated white

sugar
1 1/2 teaspoons pure vanilla extract
2 1/4 cups (295 grams) all-purpose flour
1 1/2 cups (270 grams) semisweet chocolate chips
1 cup (100 grams) walnuts or pecans, coarsely chopped (optional)
Directions:
In the bowl of your electric mixer (or with a hand mixer), beat the butter until smooth and creamy. Add the white and brown sugars and beat until fluffy (about 2 minutes). Beat in eggs, one at a time, making sure to beat well after each addition. Add the vanilla and beat until incorporated. Scrape down the sides of the bowl as needed.
In a separate bowl, combine flour, baking soda, and salt. Add the dry ingredients to the egg mixture and beat until incorporated, adding the chocolate chips and nuts (if using) about half way through mixing. If you find the dough very soft, cover and refrigerate until firm (from 30 minutes to two hours).
For large cookies, use about a 2 tablespoon ice cream scoop or with two spoons, drop about 2 tablespoons of dough (35 grams) onto the prepared baking sheets

. Bake about 10 -

14 minutes

, or until golden brown around the edges. Cool completely on wire rack.
Makes about 4 dozen - 3 inch round cookies.
Note: You can freeze this dough. Form the dough into balls and place on a parchment lined baking sheet. Freeze and then place the balls of dough in a plastic bag, seal, and freeze. When baking, simply place the frozen balls of dough on a baking sheet and bake as directed - may have to increase baking time a few minutes.